Shift Questions Workbook
RZ8009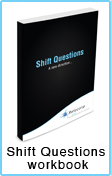 In business, it's all about asking the right questions!
The Shift Questions Workbook contains 100 questions designed to Shift the paradigms of traditional thinking, helping you see your resources in a new light, and setting you on a new path to success.
Each question in this workbook is answered in three parts. First you will write down the answer to the question as you understand it. The workbook then asks "What thoughts came up for you?" where you will be able to record thoughts that came up as a result of the question that were not directly related to the answer. Finally, the workbook asks "What actions do you need to take?", further reinforcing that this exercise is being done to make decisive changes for the better in your business.
So ask yourself, what does your business have in common with a Lego set?